Aether-in-a-Box with External 5G Radio
This document describes how to set up an Aether-in-a-Box (AiaB) with a external gNodeB and connect real devices (e.g., 5G phones). It assumes that you are already familiar with running AiaB with emulated gNodeB/UE. AiaB on Hardware Radios is suitable for laboratory experiments and proof-of-concept deployments. Its goals are to provide an easy-to-install environment where Aether's features can be explored with real devices. To create this setup you will need the following equipment:
Server for running AiaB (SD-CORE / UPF / ROC)

Ubuntu 18.04 or 20.04 clean install

Haswell CPU family or newer

At least 4 CPUs and 12GB RAM

Internet connection

Ability to run "sudo" without a password

No firewall running on the AiaB host

External 5G small cell gNodeB or simulator

If real phones are used then you need SIM card writer and blank SIM cards
IMPORTANT: AiaB is for simple deployment scenarios and so makes some simplifying assumptions:
AiaB assumes either 4G or 5G SD-CORE is deployed. Running both 4G and 5G SD-CORE simultaneously in AiaB is currently not supported. However, running both 4G and 5G SD-CORE simultaneously is supported by Aether.

Performance and scalability are not goals. AiaB does not support I/O acceleration (e.g., with SR-IOV). However, performance and scalability are goals of the Aether project.

AiaB assumes that the server and the gNodeB are connected to the same LAN and share the same IP subnet; in other words they can reach each other in a single hop and there is no IP router between them. This simplifies communication between the gNodeB and the UPF, which is running inside a container and has a private IP address that is not necessarily routable on the local network. However, this is not a requirement for all Aether deployments.

AiaB also assumes that the AiaB server's network is configured using systemd-networkd, which is the default for Ubuntu, and copies some files into /etc/systemd/network; the reason for this is to enable persistence of AiaB's networking configuration across server reboots. This configuration method is specific to AiaB.
Server setup
The server will run Aether-in-a-Box. The gNodeB will connect to the server over the local network. Perform these steps to prepare the server for the AiaB install:
Connect the server to the local network

Perform a clean install of Ubuntu 18.04 or Ubuntu 20.04 on the server

Verify that systemd-networkd is being used to configure networking (e.g., run systemctl status systemd-networkd.service)

Set up password-less sudo for the user that will install Aether-in-a-Box
After the steps above have been completed, install Aether-in-a-Box as follows:
sudo

 

apt

 

install

 

git

 

make




git

 

clone

 

"https://gerrit.opencord.org/aether-in-a-box"




cd

 

aether

-

in

-

a

-

box



Next, modify the file sd-core-5g-values.yaml. Under subscribers, add an IMSI range for the SIM cards you created, with the Transport Key and OPc values you used earlier. For example, the following will add IMSIs between 315010999912301 and 315010999912303:
subscribers

:




-

 

ueId

-

start

:

 

"315010999912301"


  

ueId

-

end

:

 

"315010999912303"


  

plmnId

:

 

"315010"


  

opc

:

 

"69d5c2eb2e2e624750541d3bbc692ba5"


  

key

:

 

"000102030405060708090a0b0c0d0e0f"


  

sequenceNumber

:

 

135



Determine which is the interface that has L3 connectivity to the gNodeB – this will be DATA_IFACE in the configuration later. If the gNodeB will also be connected to the local network, then this is just the server's primary interface. If the gNodeB will be connected via an isolated L2/L3 network segment, then DATA_IFACE refers to the server interface on that network. Remember this interface for later.
gNodeB setup
We expect external gNodeB configuration is carried out separately.
Connect the gNodeB LAN port to a free Ethernet port on a Linux machine (say, a laptop) that will be used for the initial configuration of the gNodeB.
Test connectivity from gNodeB to the UPF. If required add a static route to the UPF address (192.168.252.3)

Test connectivity from the gNodeB to the AMF
If connectivity results are success, then you are ready to try to connect devices to the network.
Connecting Devices
Documenting how to configure different types of devices to work with Aether is work-in-progress, but here are some basic guidelines.
Create SIM cards by following the instructions for your SIM card writer. Of course you are free to use any values for IMSI, etc. that you choose, but these are the values that will work with the rest of the configuration in this document:
IMSI: each one is unique, matching pattern 315010********* (15 digits)

OPc: 69d5c2eb2e2e624750541d3bbc692ba5

Transport Key: 000102030405060708090a0b0c0d0e0f
If you choose different values for your SIM cards, you will need to modify subsequent configuration steps appropriately.
Insert the SIM cards in devices that you wish to be able to connect to the Aether network.
The values of IMSI, OPc, and Transport Key you have configured on your SIM cards must be entered into the subscribers block under omec-sub-provision in the sd-core-4g-values.yaml file. If you are not using the ROC, the IMSIs must also be added under device-groups, and the relevant device group added under network-slices. If you are using the ROC, then your devices must be configured there and the associated device group added to a slice. In either case it is necessary to configure the basic info under subscribers.
Be aware that not all phones support the CBRS frequency bands. AiaB is known to work with recent iPhones (11 and greater) and Google Pixel phones (4 and up). CBRS may also be supported by recent phones from Samsung, LG Electronics and Motorola Mobility, but these have not been tested with AiaB. If you successfully test a phone on AiaB, please post details on Slack so we can add it to the list.
The APN to configure on your phone is internet.
Enable Monitoring
To easily monitor your AiaB deployment, you can run the following command to deploy the Prometheus/Grafana monitoring stack on your AiaB server:
After this step, Grafana is available at http://<server-ip>:30950. You will see a number of system dashboards for monitoring Kubernetes, as well as a simple AiaB_5g dashboard that enables inspection of the local Aether state.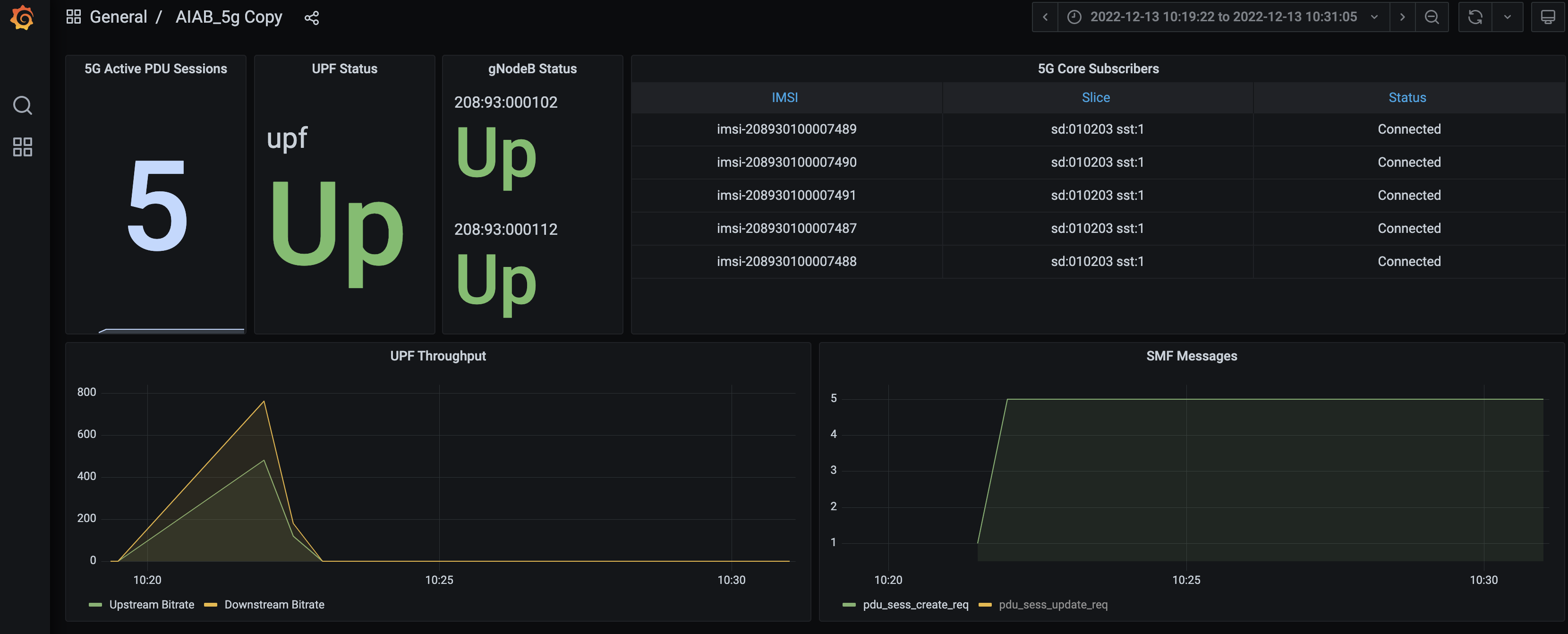 The dashboard shows whether the gNodeB and UPF are connected to the core, how many active UEs there are, including UE's IMSI and Slice information, and the uplink (Tx Bitrate) and downlink (Rx Bitrate) throughput at the UPF. SMF and AMF service metrics work is in progress and shall be available soon.
To create a new dashboard for Aether, you can login to Grafana as user admin with password prom-operator. You can also modify an existing dashboard by making a copy of the dashboard and editing that. Note that any dashboard changes will be lost if Grafana is restarted; if you want to make your dashboard more permanent, you can save its JSON to a file, add the file to directory aether-in-a-box/resources/5g-monitoring, and edit kustomization.yaml in that directory to add the file to the ConfigMapGenerator block. After these steps, re-running make monitoring-5g should install the dashboard in a ConfigMap and Grafana should automatically load it.